Having beautiful things in your home can make every day feel a little more special. Waking up beneath your favorite quilt, drawing a pair of curtains you love to let light flow into your room, accessorizing with a fashionable scarf—these activities can leave you smiling all morning. Your surroundings reflect your personal style, and you want them to be uniquely yours.
At Marigold Living, we embrace beautiful living. Find your style inspiration with us, and make everyday more beautiful.
Why home décor is important
In a letter to a friend, the novelist and designer Edith Wharton once wrote "…to decorate one's inner house so richly that one is content there, glad to welcome anyone who wants to come and stay, but happy all the same when one is inevitably alone."
We take this philosophy to heart; it is woven into the very fabric of our collection.
When you love your space, you'll love coming home to your private retreat, making every moment spent there more delightful. And you'll never worry about a guest dropping by without notice—they'll always get a sense of your good taste from the moment they walk through the door.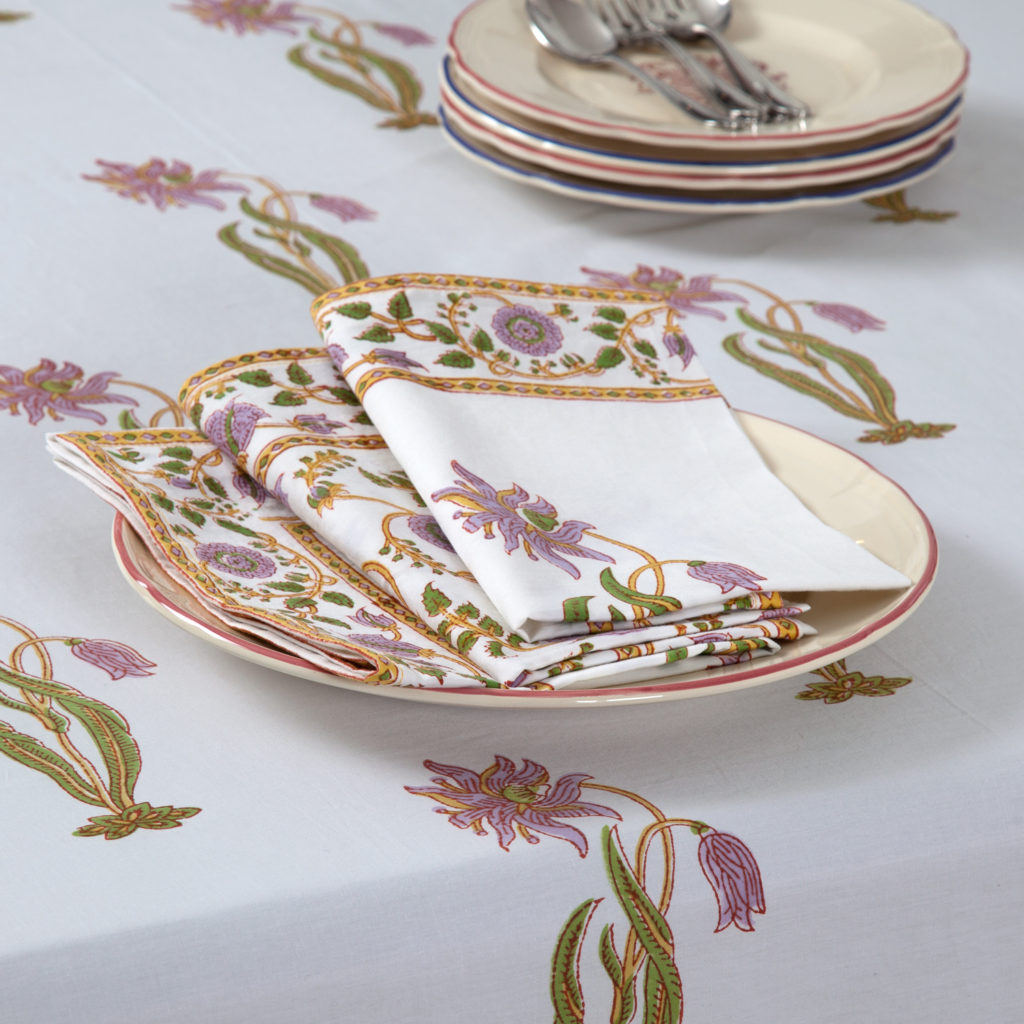 Our handcrafted home décor selection is designed to bring something lovely made with all-natural materials into every room, from our Indian table linens for the kitchen and dining room, to our cotton and silk cotton bedspreads, and even our handmade makeup bags for the bathroom counter. We believe beautiful living doesn't have to be reserved for a special occasion—it is something to be enjoyed every day.
One beautiful thing at a time
Looking for home décor inspiration can be intimidating. Sometimes, it's hard to know where to start. We like to start simple—one piece at a time.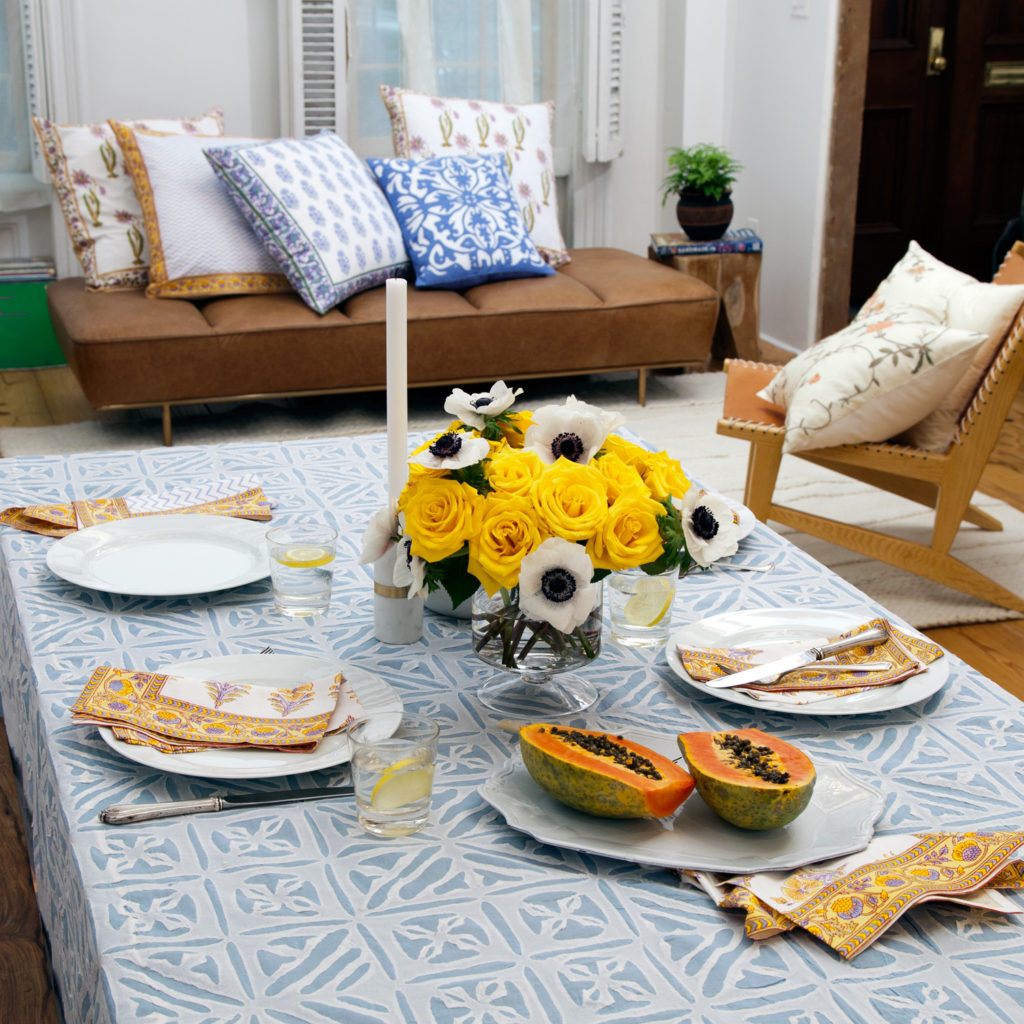 Every piece in the Marigold Living collection is designed to be enjoyed as much separately as it is as a part of a set. From a pair of placemats and napkins block printed by hand to a pearlescent silk pillow cover with delicate Parsi embroidery, these items can be incorporated easily into your current decor for a trendy, eclectic feel. We sell all our pieces separately and in a wide range of price points, making it easy to buy one thing at a time for yourself or as a gift for someone else.
Over time, you can build up a collection that reflects your unique style. Our handmade table linens, for example, elevate even the simplest of meals and look just as charming when enjoyed with a family dinner as they do when incorporated into an elegant tablescape for a holiday bash. From a statement Indian tablecloth that brings personality to a room even on casual occasions, you can build a matching collection with placemats, napkins and runners or mix and match patterns and colors to captivate your guests when you entertain.
Or perhaps you start with one hand woven wool-silk scarf and find it so effortlessly stylish that you carry it everywhere—wearing it at indoor concerts and events, and even tucking it into your bag when you're on the go for a chic and warming layer whenever you need it. Before long, you want a few more in different weaves and colors, or in subtle block prints that will complement your favorite outfit. And since your friends and family always comment on how lovely they are, you know they're guaranteed to make a gift they'll adore.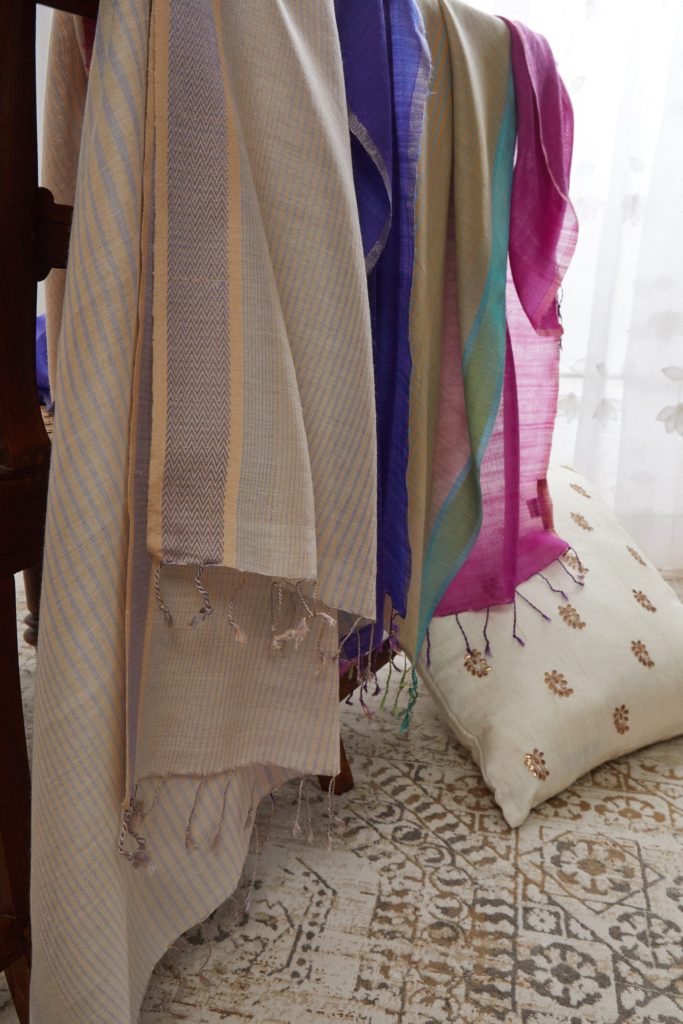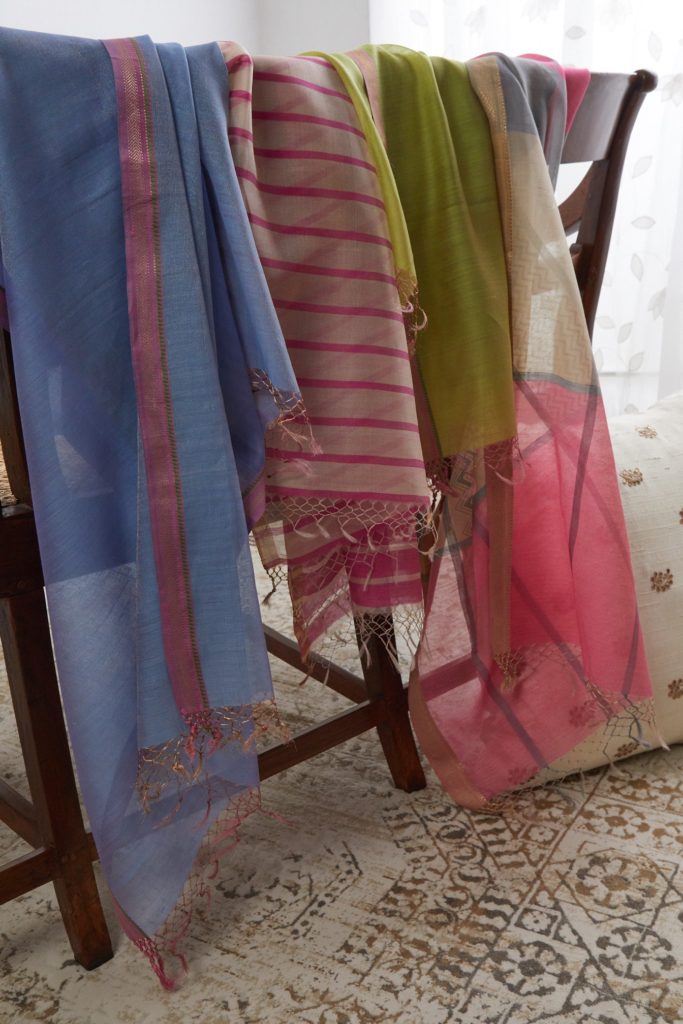 Build your bed with warm and welcoming Indian bedding
When thinking about home décor, your bed is the perfect place to begin. Your bedroom is your sanctuary, and with the right bedding and curtains, you'll love waking up to greet the day.
Start with our reversible pillow cases to incorporate appealing florals and warm paisleys into your décor. Or infuse subtle notes of luxury into your room by spreading our plush, pure cotton filled artisanal quilt on your bed, featuring classic Indian motifs hand printed on radiant white voile.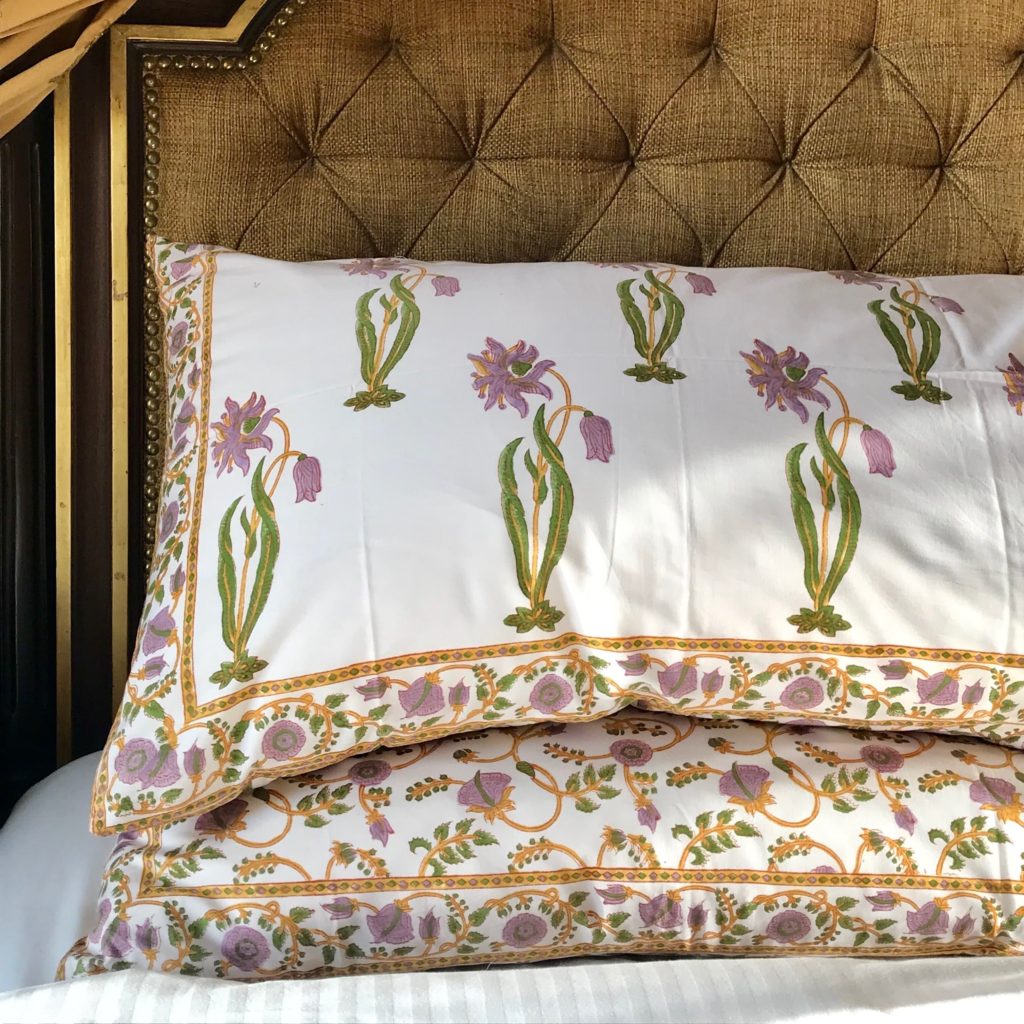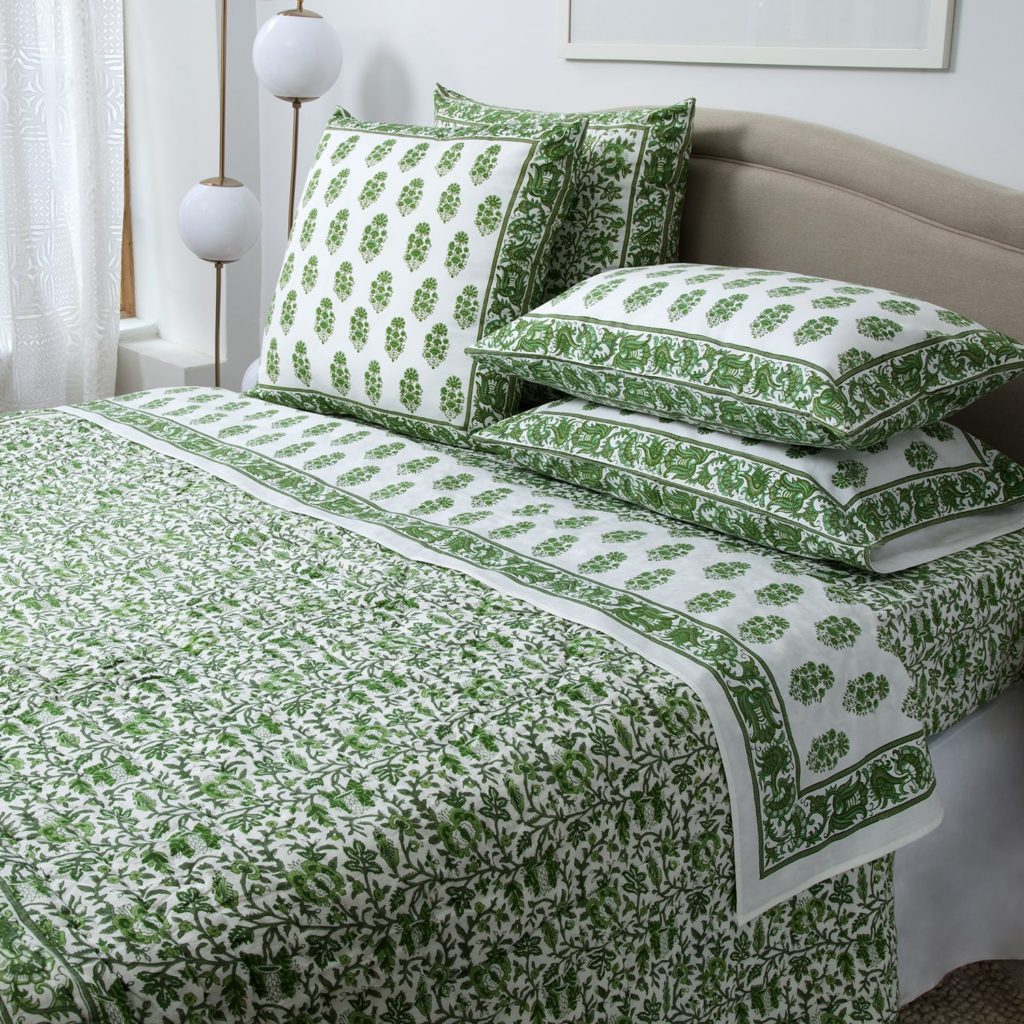 These pieces look just as beautiful together as they do when paired with plain white or solid-color bedding, or with our comfortable 300-thread count cotton sheets in a coordinating print. You might decide you want the complete collection, which includes one-of-a-kind mix of decorative pillows in silk with embroidery and subtle weaves blending in with the block prints, creating a grandiose yet serene centerpiece for your master bedroom's décor.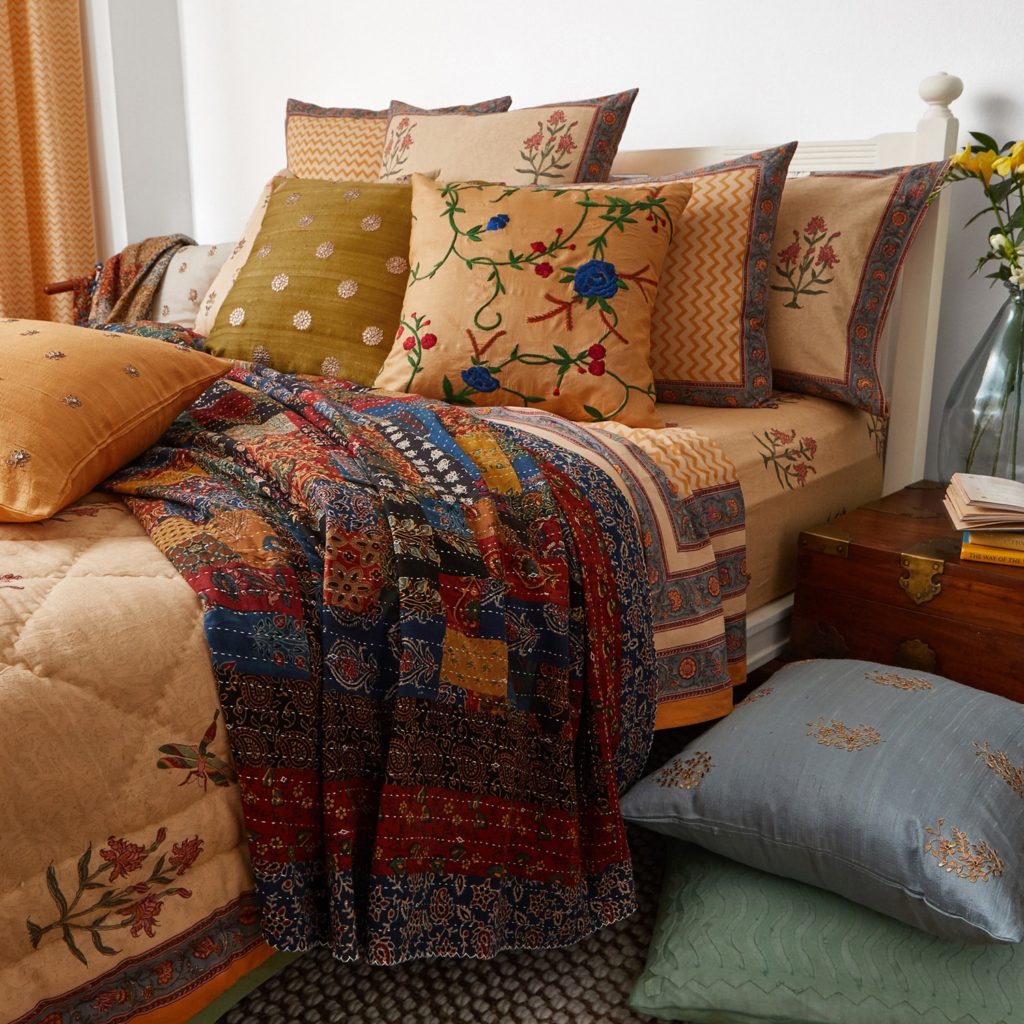 And add the final touch to the room with lovely curtains for the ultimate calming escape.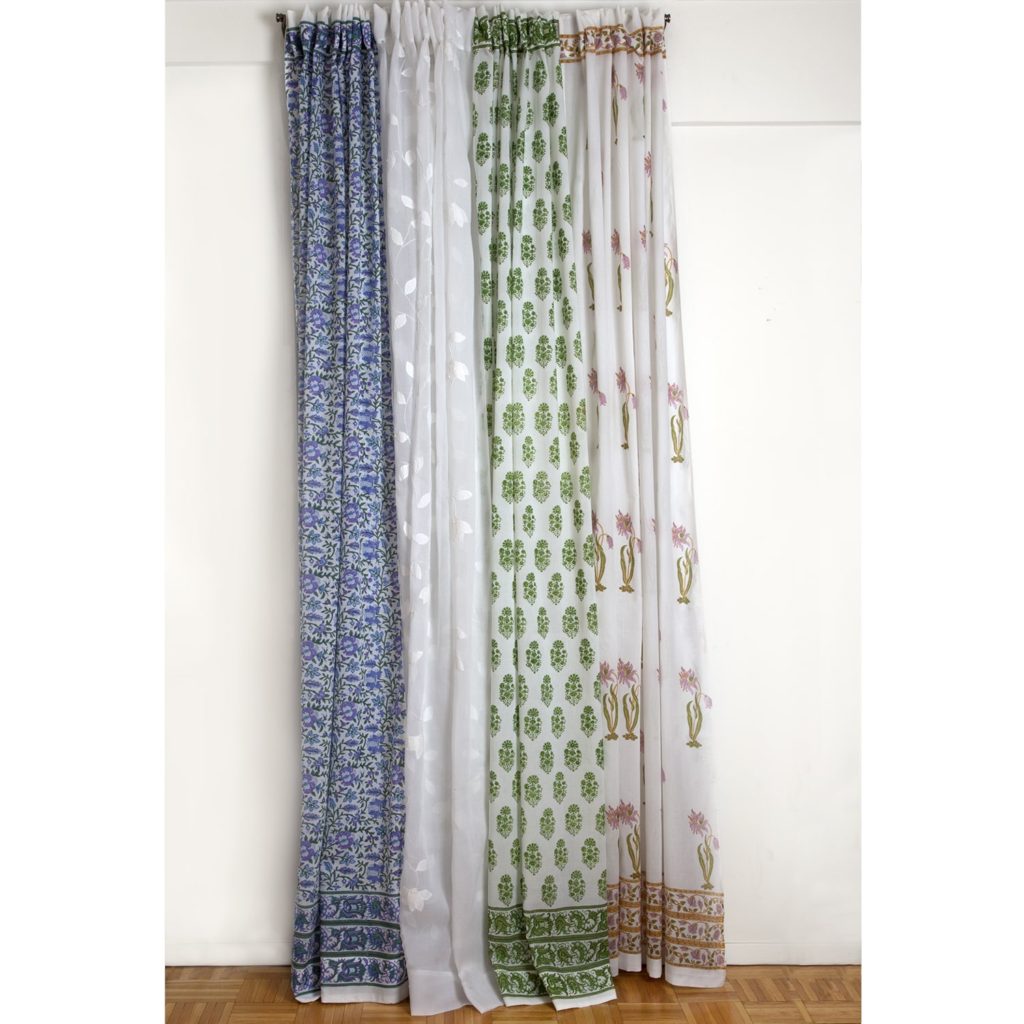 A home for all seasons: versatile handcrafted home accessories to use as your imagination dictates
The wonderful thing about these textiles is their simplicity, and their versatility. You can use them for all seasons and many purposes, turning decorating into an adventure you can enjoy again and again. Dress your home up, dress it down—create a space that always feels both familiar and new.
A memorable gift for a hostess, or a conversation starter for your next dinner party, our Indian block print and indigo resist print napkins can also be instantly transformed into colorful wall hanging collages or decorative accents on a coffee table.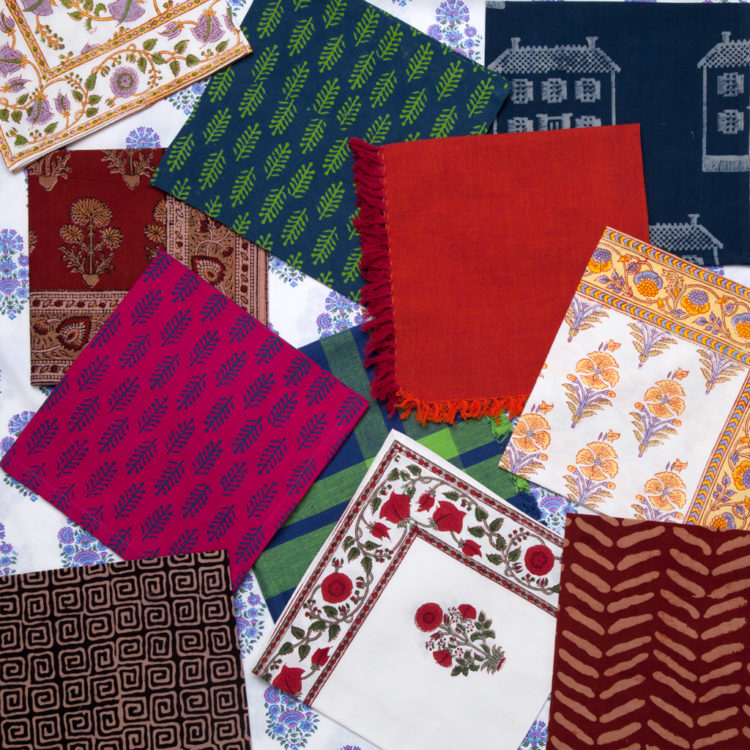 Our pillow covers blend seamlessly with any décor—move them from your sofa to your bed for an extra layer of softness, or add them to your favorite chair to create a cozy retreat. They also make a thoughtful gift for a friend, ideal to brighten up any nook in their home.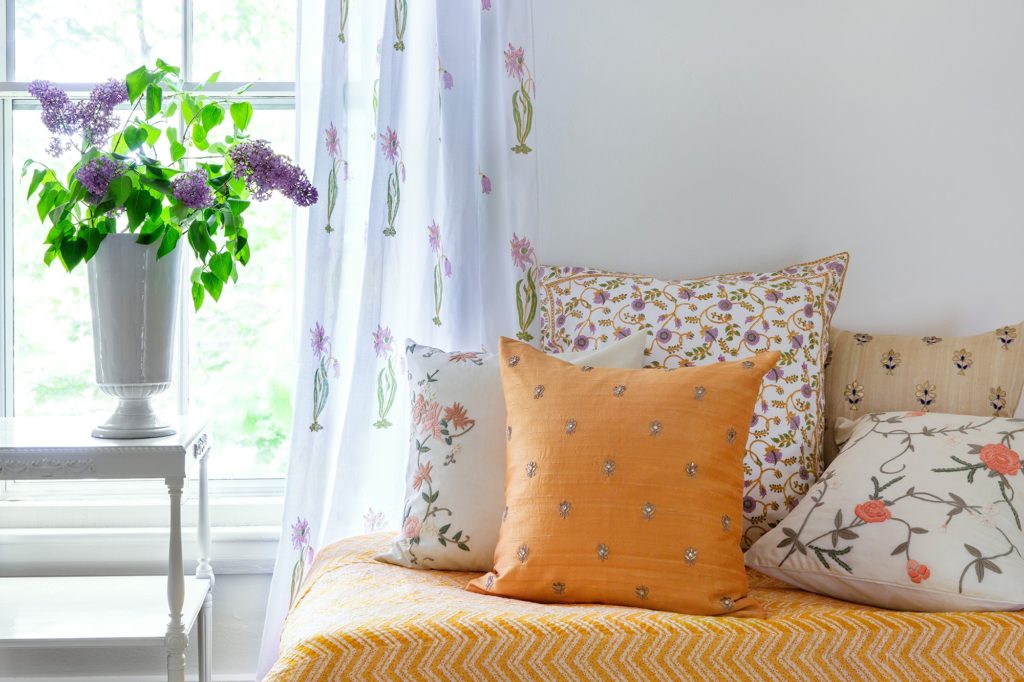 Our handcrafted tablecloths don't have to stay on your table. Take them out to use as an attractive picnic blanket on a summer's day, or turn them into a bedspread on twin and twin-XL size beds. And for an instant seasonal refresh of your living room décor, tuck your tablecloth onto your sofa's seat or drape it over the back of your couch to bring rich pattern into the room.
Play with these textiles as your imagination dictates, and transform your space with minimal effort guided purely by your own creativity.
Bohemian or minimalist: find your home décor style with Marigold Living—or fall in love with them all
Our handcrafted Indian textiles draw inspiration from many aesthetics, from classic, worldly prints to minimalist contemporary styles. Indian culture offers a vast variety of color palettes, motifs and techniques, and we weave these through every piece we create.
The contrast is striking. Consider our Patchwork and Hand-Stitched quilts from Western and Southern India, which embody rich colors and dramatic patterns.
Alongside them, we have contemporary and minimalist patterns in neutral colors, and delicate applique designs in whites and creams that bring a calming feel to a room. There is something to suit every taste; something to match every room's decor.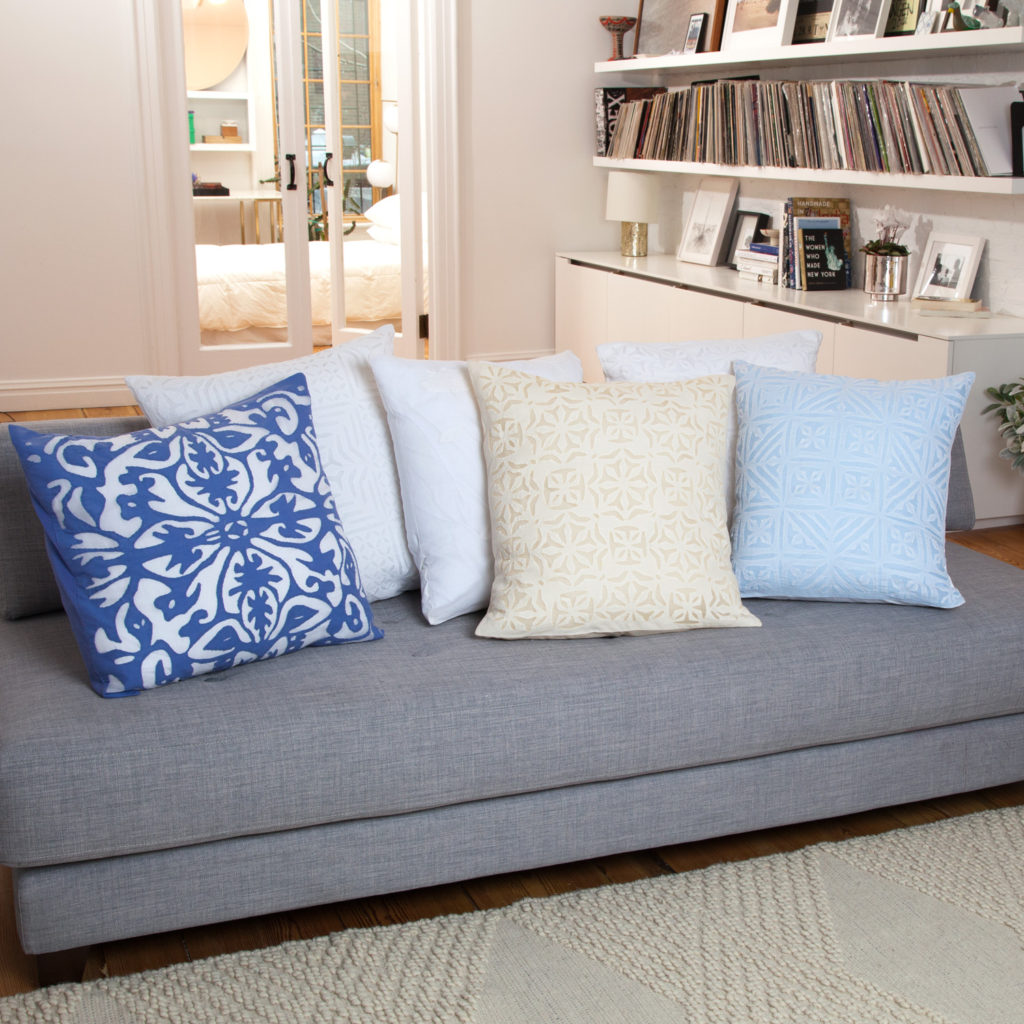 All our pieces tell a story. The design inspiration and craftsmanship used to create them are centuries-old, and yet Indian textiles fit easily into any lifestyle, adding a touch of newness to every ensemble.
Make everyday beautiful—in your own unique style. Browse the full collection on our website.