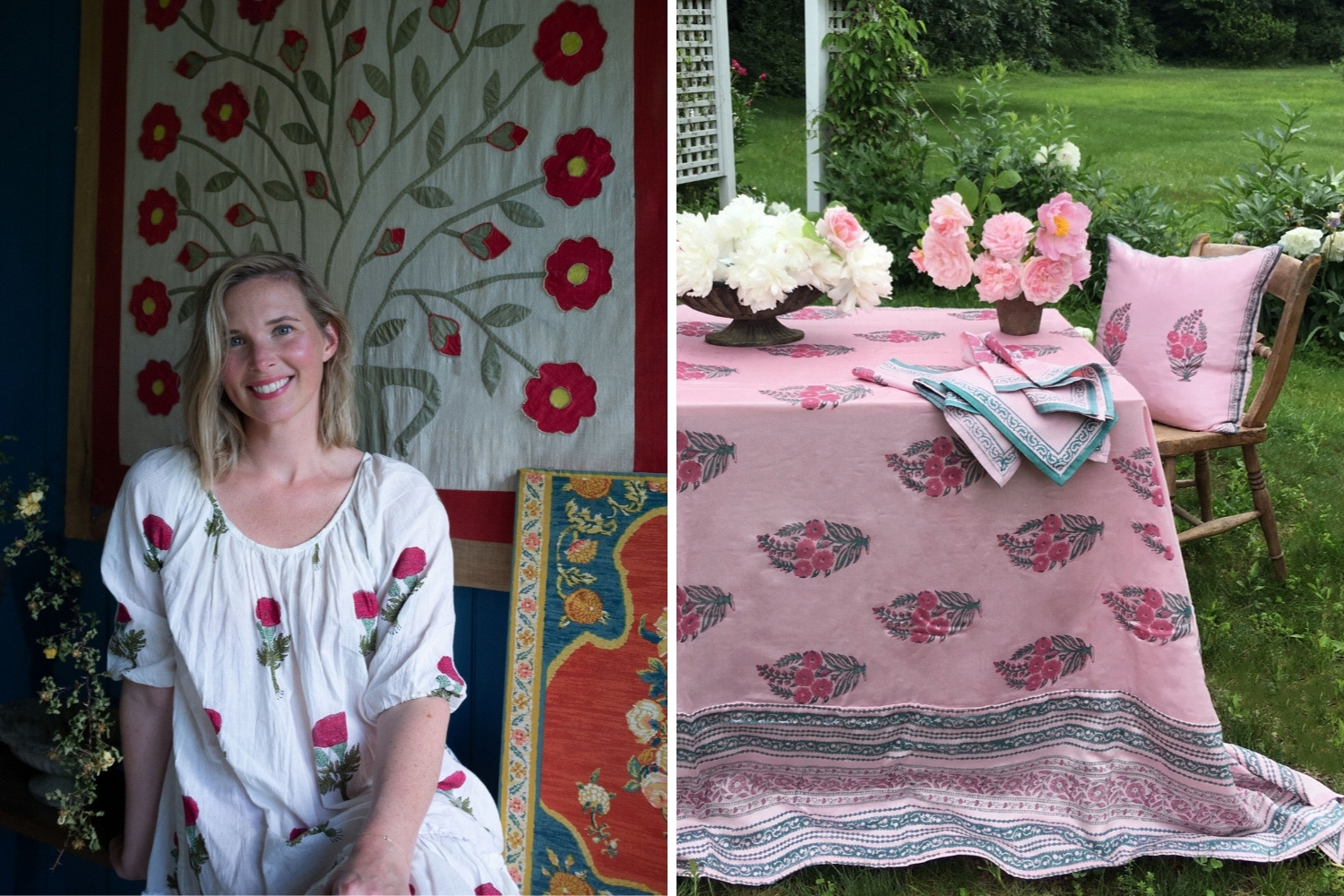 In college, creative consultant Sarah Storms had the opportunity to live in Dakar, Senegal for a short time. There, she found endless inspiration in the way traditional African garb and modern fashion coexist, collecting bolts of local fabrics she still has today.
Sarah has carried this inspiration with her throughout her career, blending timeless beauty with contemporary ideas. She's worked as a magazine editor for Travel + Leisure, Lonny, Elle Decor, Veranda and House Beautiful, as well as written for The Wall Street Journal and Architectural Digest. She's also styled shoots for Christie's auction house and Sotheby's International Realty.
Eventually, Sarah's love of all things old and new led her to form SGBMade, a creative studio specializing in consulting and artful product styling for small-batch artisan brands. That's when she discovered Marigold Living and fell in love with our Roza Collection. In luscious pink and teal, these linens have become Sarah's go-to pieces for dreamy end-of-summer entertaining.
In this newest installment of our Style Guides series, Sarah was kind enough to share tips for finding inspiration and unique products—and for crafting a photo-worthy outdoor tablescape.
Big Style Doesn't Have to Mean Spending Big
"I rely on flea market treasure-hunting for hard furniture and décor, and approachable, artisan-championing textile makers like Marigold Living for those all-important moveable feasts of color and print."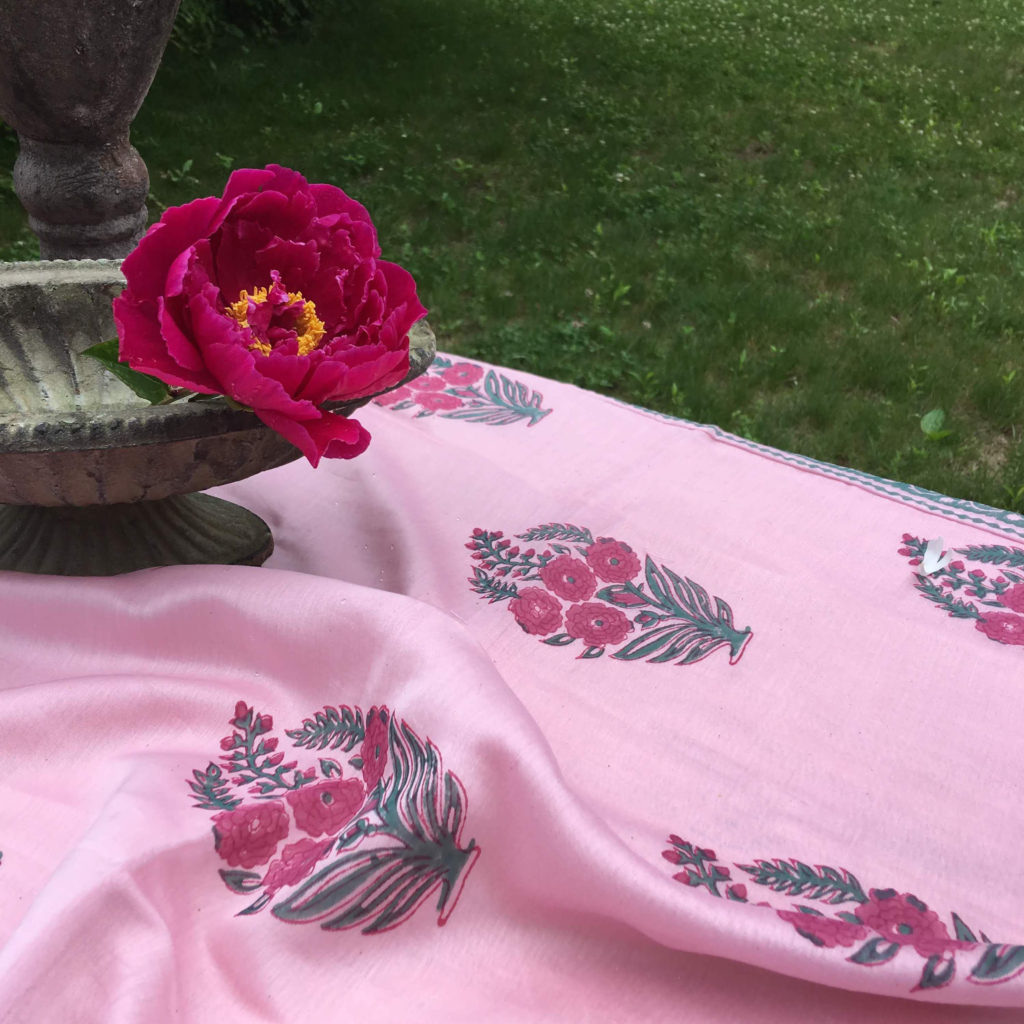 Q: How would you describe your design sensibility?
A: I like a good mix of European rusticity, glossy colors and bold print. I'm really drawn to intense tones and distinctive patterns, and shapes that hark to tradition but feel simple enough to stand up to a modern eye. I'm committed to debunking the idea that to have big style, you have to spend big. I think my design taste can sometimes appear highbrow, but I don't often have the budget—for my own home or on styling jobs—to have things custom made or upholstered.
I rely on flea market treasure-hunting for hard furniture and décor, and approachable, artisan-championing textile makers like Marigold Living for those all-important moveable feasts of color and print: pillows, throws, tablecloths used as tapestries. I'm all about filling your home with things you can shift from room to room as your mood changes. Sometimes you need a hit of happiness from a cheery pillow in the bedroom—sometimes it'll lift your mood in the living room.
Q: What inspires you when styling?
A: Natural light. Nothing makes me more excited to set up a vignette than a beam of late-afternoon sun streaming through a window or morning sunrise moodiness. Whether fabric, glass, a great chair—everything looks better when it's bathed in real light and shadow.
Don't Be Afraid to Move Décor Between the Garden and the House
"While the textiles warmed up [my backyard] view, they're really well suited inside my home, as well. I've repurposed the tablecloth as a makeshift upholstery."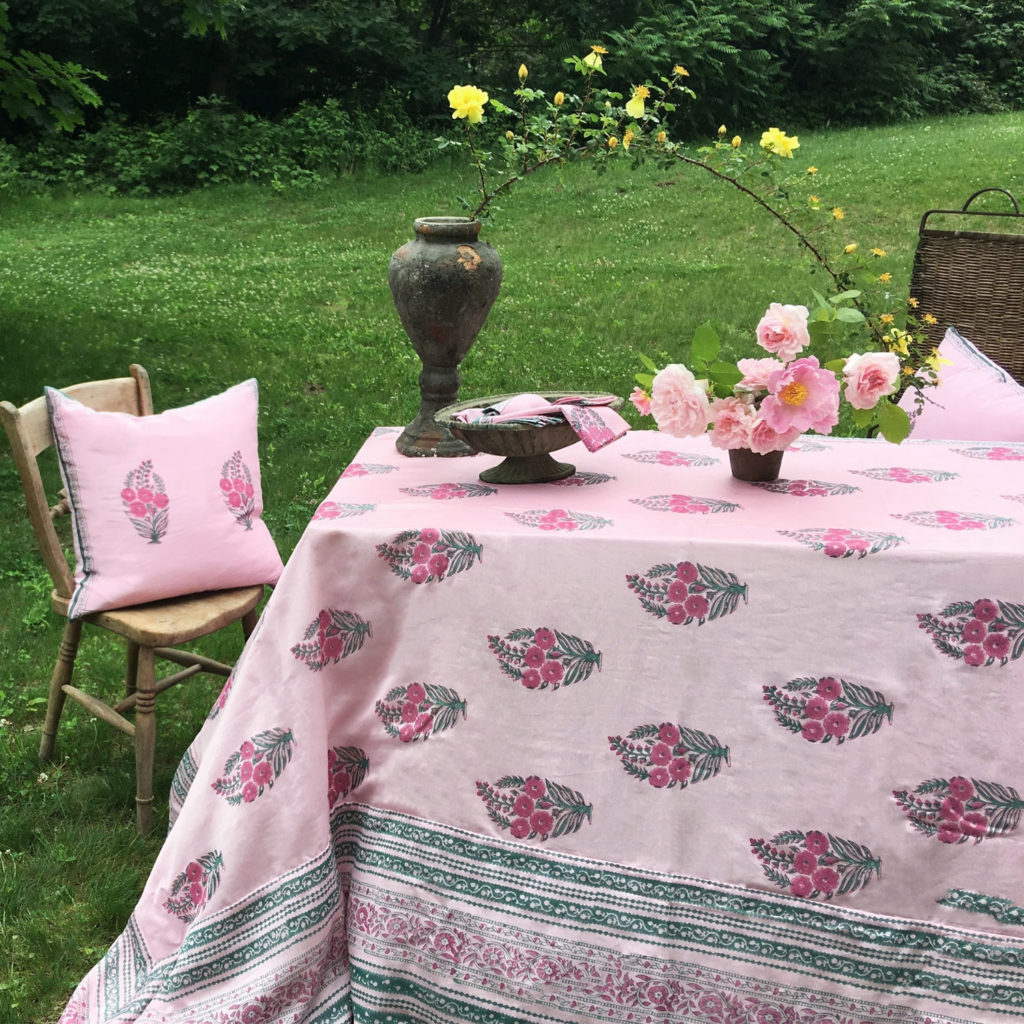 Q: Why did you choose our Roza pieces for this garden party look? Do you feel as though our Roza pieces could translate just as easily into your home?
A: As soon as I saw the Roza Collection and its very particular pink hue, I was instantly reminded of the roses I grow in my front yard. I do not have a green thumb whatsoever, but I am inexplicably, desperately enslaved to these four bushes of English garden roses. No other of our under-nurtured plants seem to inspire me this way—I go so far as to individually paint these roses with soapy water to stave off the Japanese beetles that prey on them. My backyard is a green expanse with lots of beautiful flowers, but no such roses, so I immediately imagined the Roza pink popping in that void.
While I loved the way the pink textiles warmed up that view, they're really well suited inside my home, as well. I've already used the napkins on several occasions to accent the simple natural linen tablecloth that's forever the base of my dining table. I've also re-purposed the pink tablecloth as a makeshift upholstery on a settee that needed a fresh look. I'm thinking it will stay there until my baby begins walking (and inevitably smearing things all over anything at hand level).
Q: What's your method for creating a tablescape for an outdoor gathering? Do you like to go more casual and keep it simpler when throwing a garden party or sunset soiree, or do you feel it can go as formal and layered as something you would host in your dining room?
A: Casual is a relative term in my house. I sometimes think a swath of velvet should be a tablecloth—and if all I have to do is unroll it from a bin in the potting shed and lay it on the table in one swoosh, that feels like a pretty chill gesture to me.
Q: We love how even our finer pieces, like the silk-cotton Roza table linens you styled with, add an extra-special touch to even the most casual of gatherings. How do you get comfortable using nicer linens for casual indoor and outdoor events?
A: You'll probably have to launder your table linens after a dinner party because of a guest who gets swishy with a drink or overzealously serves themselves seconds. Accidents happen whether you're indoors or out, so you may as well bring the things you love outside. I say spring for the good linens for outdoors—though I do think there's a fine line between setting a thoughtful tablescape regardless of location and dragging your grandmother's crystal into your backyard. Sturdy glassware should do the trick.
Add Height to Your Table with Candles and Flowers
"I like to set a pretty loose table—I'm always game for mixing textures, patterns and colors."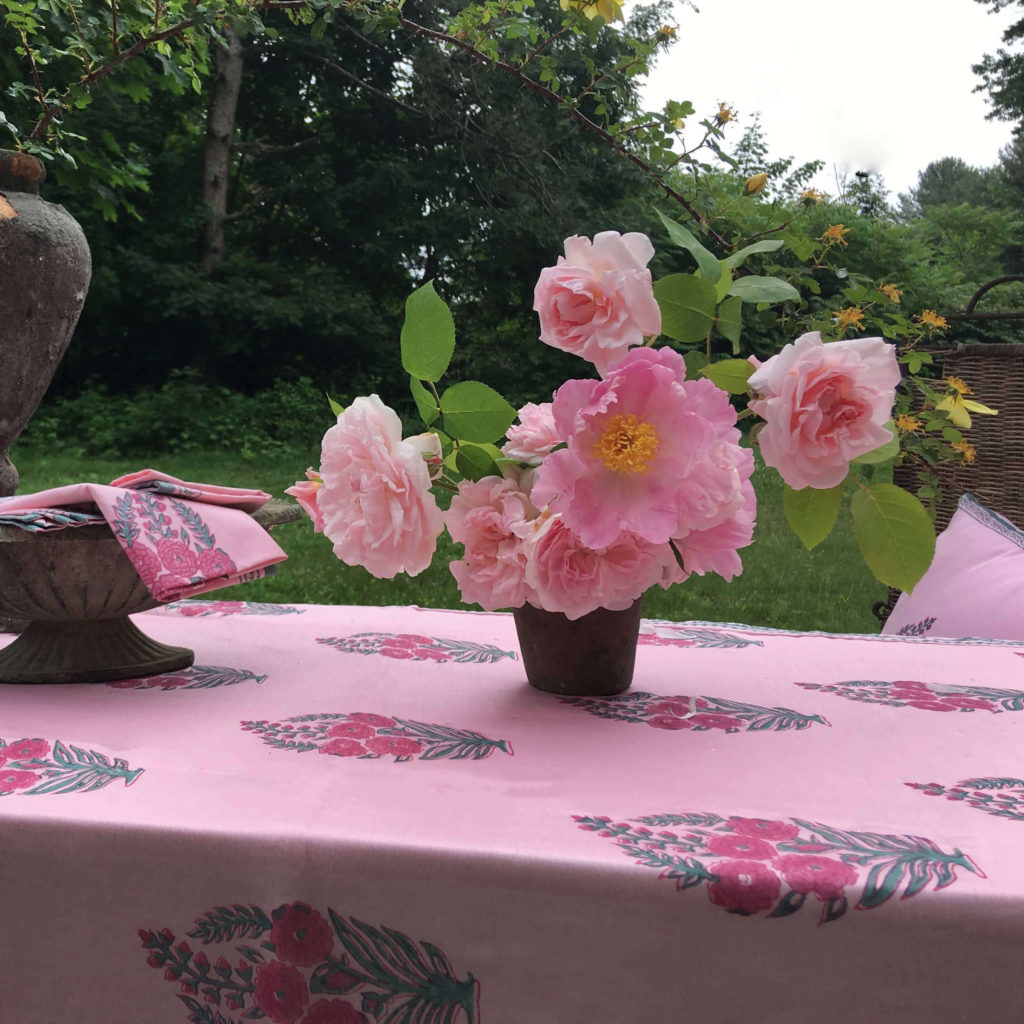 Q: Do you prefer matching table linens or do you like to mix it up?
A: I like to set a pretty loose table, meaning I'm always game for mixing textures, patterns and colors. I always lean towards thicker textiles that can be machine washed and look good even if they haven't been ironed.
Q: Any easy tricks or hard-and-fast rules you can offer for taking your table look to the next level?
A: Candlelight! Colorful tapers add happiness, drama and a skin-flattering glow. Candlesticks also add such good height, which is a visual must on a table where everything else is on a low plane. I love a big flower arrangement in most contexts, but for a functional and beautiful table setting, I often use small bud vases spread over the table with different flowers in each. That way, you're not beholden to one style of arrangement, and you're also adding freshness without impeding guests' views of each other.
Abandon the Idea That You Must Stick to a Single Pattern or Theme
"I'm a great lover of Indian textiles and use them liberally throughout my own home."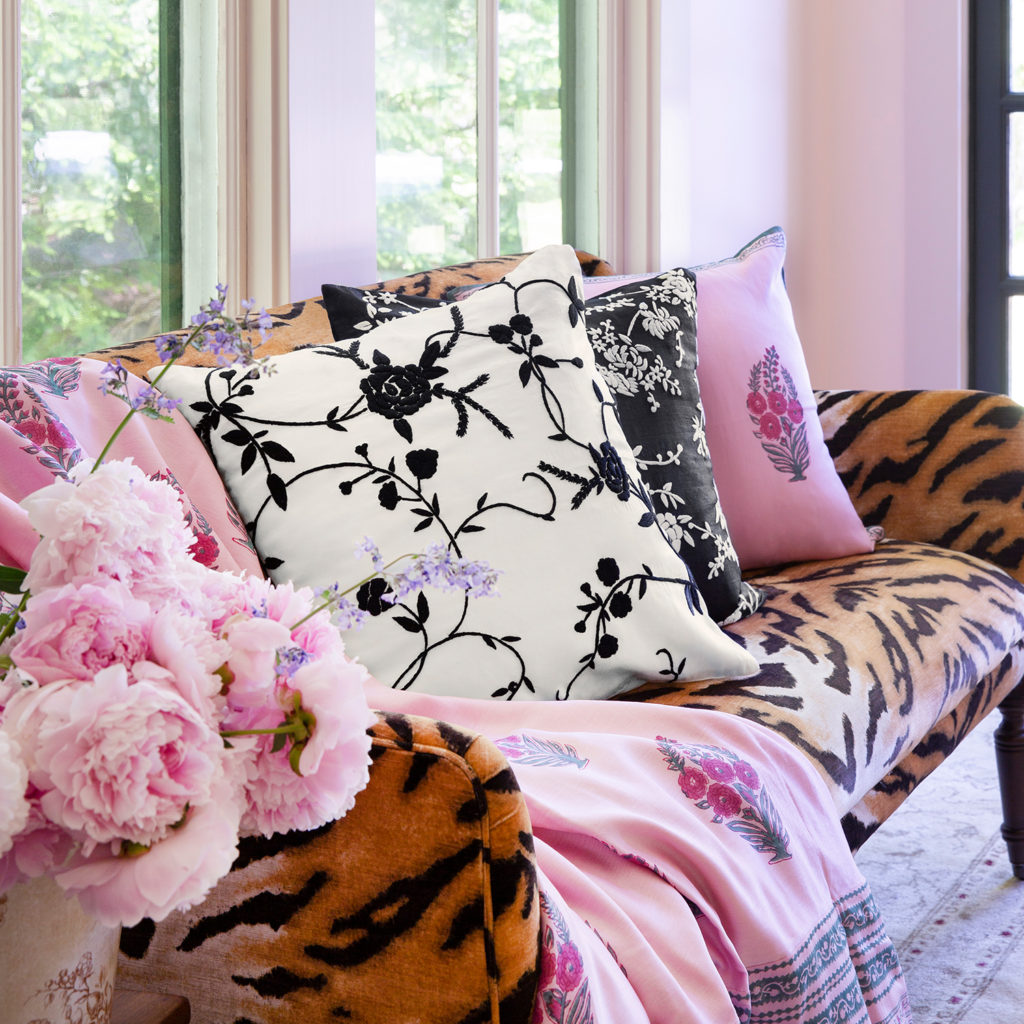 Q: What kinds of things do you like to use in your home décor? When it comes to textiles, do you have a specific style that you particularly love, or do you let the color and pattern catch your eye?
A: As a former shelter magazine editor, I forever live in the mentality of "What's next?" For years, I was charged with spotting a trend before it became a trend and staying ahead of the curve when it came to shifting design appetites. But as much as parts of my house act like a decorating test lab, like the old potting shed that I've transformed into a photo studio for my company, SGBMade, my home is really an ode to the fact that I like what I like. I can't be tempted into any real theme other than that.
As far as textiles, my favorites will always include a heavy dose of florals, whether watercolor and painterly, embroidered and folky, block printed and restained, or chintzy and proper. Otherwise, I'm turning to stripes, colorful linen and animal prints.
Q: How best do you think colors and patterns in Indian textiles with heritage designs can be incorporated in an American home?
A: I'm a great lover of Indian textiles and use them liberally throughout my own home—especially anything with a Mughal motif. And traditional embroidery… Be still my heart.
While they look beautiful on their own in an otherwise muted environment, I am a big proponent of mixing striking patterns with other patterns—which means they'd fit in with most existing decor styles! So many American homes have that quintessential family sofa that shows signs of love and wear. I'd love to see an Indian textile folded over it, with a few colorful Indian pillows nestled in there to change up the look. If the sofa happens to be upholstered in a contrasting print, all the better!