The approaching holiday season offers the opportunity to get creative with your home décor, especially when it comes to your Thanksgiving tablescape. Elevate your holiday decorating this Thanksgiving and effortlessly create an atmosphere of hospitality, comfort and warmth with a curated selection of handcrafted Indian textiles from Marigold Living.
Heritage motifs, vibrant natural colors and intricate, worldly details add charm and intrigue to your table setting. Conveying a rich cultural heritage, these tasteful prints have adorned elegant tables around the world for centuries. With a wide variety of colors and designs to choose from, you can mix and match to build a collection that is uniquely yours—and timelessly beautiful!
Make your special occasion one that guests will remember for years to come with eye-catching patterns and hues that convey a cultured flair. With so many ways to build your perfect Thanksgiving table with Marigold Living, where will your decorating adventure take you?
The Enchanting and Elegant Table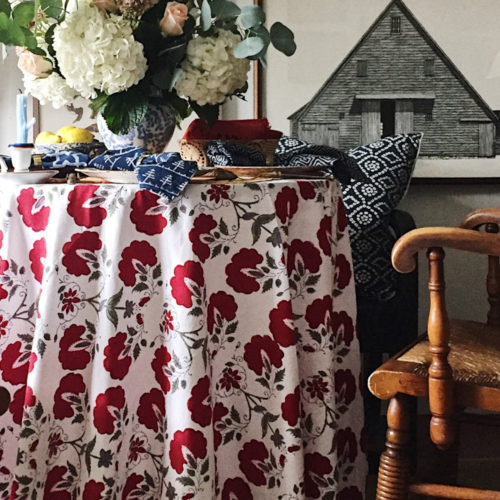 If you find you can never settle for just one pattern, take a cue from expert stylist Ben Reynaert (@aspoonfulofbenjamin) and give your table a collected, layered feel. Embrace elegance with vivacious hand block prints like stunning florals, chic paisleys and striking geometric designs in bold color palettes.  The delicate hand block printing process results in small variations between each piece that makes them one-of-a-kind—just like your creatively designed table.
The Sophisticated and Stunning Table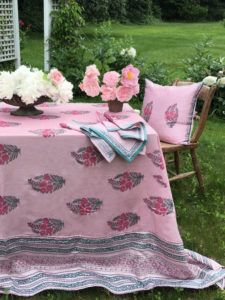 Our Roza Collection in regal pink with the Gardenia flower motif hand block printed in effervescent pink and teal hues exudes effortless sophistication in an all-matching table setting. It only needs the freshest of blooms to make it a stunner! The lustrous silk-cotton fabric provides a luxurious foundation for your china and glassware to create a Thanksgiving table that will last in your guests' memory long after the meal is done.
Get all the tips for hosting an outdoor garden party for Thanksgiving from creative consultant Sarah Storms.
Colorful, Creative Charm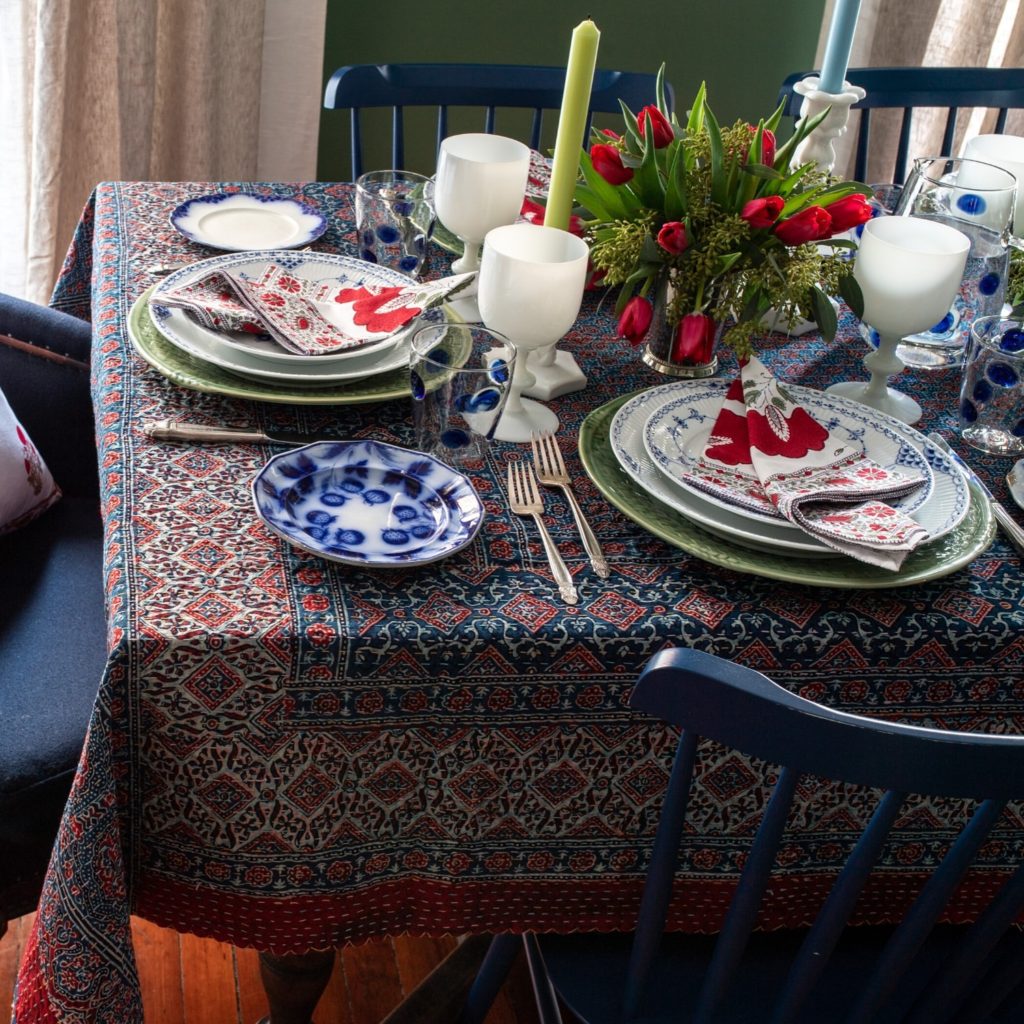 Nothing says fall more than deep, earthy tones. Dramatic and moody, our indigo tablecloths add color to your table in unexpected ways. The rich pattern and detail in our Samara Hand Stitched Quilted Tablecloth echoing the principles of Sufism, combined with its quilted texture creates a sense of abundance and grandeur in a classic American blue and red color palette.
For inspiration on decorating a richly set table for Thanksgiving, look up Stacie Flinner's Style Guide on how to add worldly touches to glamorous all-American decor.
Layers of Luxury
Add new dimensions to your table with some of our ideas on mix and match.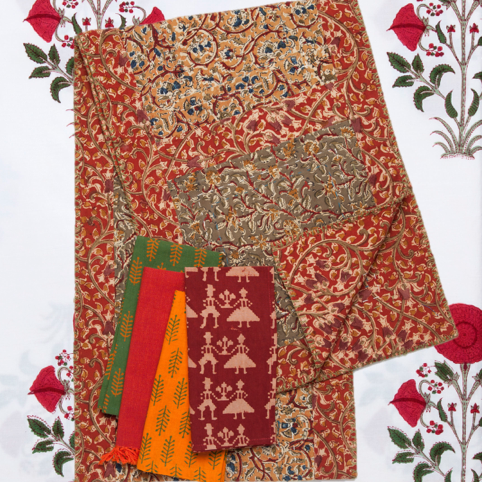 Create a standout Thanksgiving table setting honoring the festive color palette with our Uma patchwork runner and an assortment of Fall foliage toned napkins layered over the classic Amaya block print tablecloth.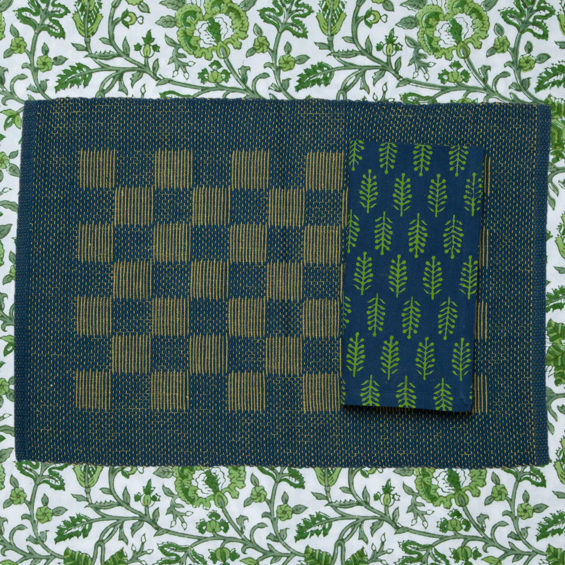 For a nature-inspired table, mix and match patterns and textures in a single color palette to create a blend of styles that feels tastefully curated and consistent. We layered our woven checkerboard placemat in teal over our Aria block printed tablecloth in green and the Fern napkin green/lime is the finishing touch on top!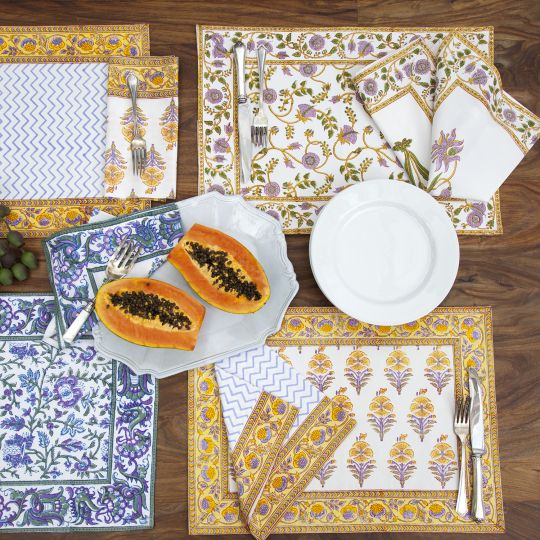 Or skip the tablecloth entirely for a minimalist spin on the layered look, highlighting the beauty of your placemats and napkins.
Simple Embellishments
If you're not sure where to start, explore our Florentina napkin collection. Available in 4 beautiful shaded hues, there's an embroidered napkin to suit every preference and mood. Easy to mix with a variety of block printed patterns—they look just as stunning beside a family meal as they do at your Thanksgiving feast.
The Gracious Guest
Epitomize the hospitality of the holiday season even when you're a guest in someone else's home by giving a delightful gift of table linens that your Thanksgiving host can use again and again.
Chic and special, our exclusive designs in hand crafted runners, placemats and napkins add an exciting pop of color and pattern to any home, even in a neutral color scheme. Build a custom set in their favorite colors to really take their breath away!
Make this holiday season your most stylish and magical yet. For more style inspiration, be sure to sign up for our newsletter, and follow Marigold Living on Facebook, Instagram and Pinterest.